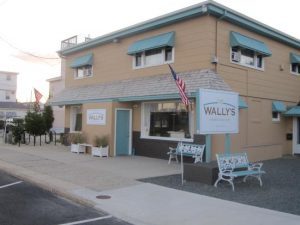 Hey there all of you LBI lovers and welcome to our latest 'Member Wednesday', where we get to highlight some of our awesome members and the cool things they do to make Long Beach Island the best place to vacation, live and work!
Today, we're shining the spotlight on Wally's. Enjoy!
Wally's has been a family-owned and operated Surf City breakfast and lunch landmark for over 40 years–and that tradition continues. The Tomkos and their extended family have been enjoying their summer home and Surf City's beach for over a decade. The idea of some day owning and operating Wally's (previously known as Wally Mitchell's) was bandied about for many years while sitting on the beach at the end of 8th Street. In October 2014, the stars aligned and it became a reality!
At the core of the enterprise is the Tomko family: Anya with husband Brian and his brother Michael and Mom, Carla Saams, each contributing their knowledge and experience in their own areas of expertise. It is Michael, however, who has the primary ingredient—more than 25 years worth of experience in the restaurant business. Anya, Brian, and Carla work behind the scenes, focusing on the business side of things.
Demonstrating true family values, there are numerous other members of the family who support the endeavor by contributing their talents, which include website design, graphic arts, marketing, and too many more to mention here.
In addition to family, they've mixed in some old friends and new, all working toward the goal of providing great food with a new twist and friendly, prompt service in an environment enjoyed by both guests and staff.
We are so happy that Wally's is a part of our LBI Chamber member family!
To view Wally's full directory listing, please click here.