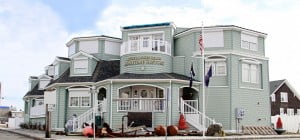 Hey there all of you LBI lovers and welcome to our latest 'Member Wednesday', where we get to highlight some of our awesome members and the cool things they do to make Long Beach Island the best place to vacation, live and work!
Today, we're shining the spotlight on New Jersey Maritime Museum.
An absolute jewel located on the southern end of Long Beach Island one block from the bay in Beach Haven, the New Jersey Maritime Museum is a gold mine of history and resources for those looking to spend a few hours or the entire day ensconced in images and documentation of shipwrecks, storms, diving and the Jersey Shore in general. It boasts the most extensive collection of maritime artifacts in the entire state of New Jersey!
In addition, the museum hosts numerous presentations as other educational programming throughout the year – including its popular Marine Science Camp during the summer season.
Curator Deb Whitcraft, who operates the museum with her husband Jim Vogel, is also the author of several books and carries a true passion for what she does the people who visit the museum.
We are proud to have them as part of our member family!
You can click here to view their official business listing with us.