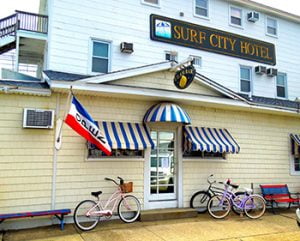 Hey there all of you LBI lovers and welcome to our latest 'Member Wednesday', where we get to highlight some of our awesome members and the cool things they do to make Long Beach Island the best place to vacation, live and work!
Today, we're shining the spotlight on the Surf City Hotel. Enjoy!
Located a few steps from beautiful Atlantic Ocean beaches, the Surf City Hotel is a historic landmark on Long Beach Island. Located in the family oriented Borough of Surf City, this historic and legendary establishment is open daily from April 1 to Columbus Day weekend in October.
Shucks Restaurant, Pub, Shucks Clam Bar, and Beach Club lounge are open weekends May through June. Open daily from late June through Labor Day. Limited opening September through October.
The Surf City Hotel's Beach Club lounge offers a variety of musical entertainment on weekends, and four nights during the week. Rock'n'Roll, Tribute bands, and the acoustic duo of the fun loving "The Bill & Andy Show" on most Sunday afternoons.
There's always a good time to be had at the Surf City Hotel, and we're so thrilled they are a part of our LBI Chamber member family! To view their directory listing, please click here.